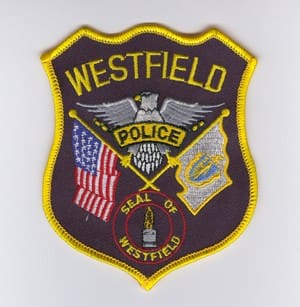 WESTFIELD – A city man is facing robbery and assault charges and police are seeking his accomplice after the two men allegedly assaulted and robbed a resident who thought he was going to a party.
City police responded Monday, August 27, to a 1:53 a.m. caller who reported that he had seen a man on the ground who was bleeding from an apparent stab wound.
Officers Matthew Preuss and Andrew Cekovsky were the first to arrive at the intersection of Kellogg and Orange streets and found the victim who was transported by fire department ambulance to Noble Hospital.
Cekovsky and Officer Efrain Luna interviewed the man at the hospital.  The man had superficial cuts to his neck and an abrasion covering much of his forearm.
The man told the officers that he and an acquaintance known to him only as "Gringo" had been going to a party on Mechanic Street, together with a Hispanic man whom he did not know but was apparently a friend of Gringo's.
The victim said he is new to the city and does not know exactly where he was when he and the others ascended a set of concrete steps up to a place where he could see, darkly, open fields.
The victim said that his two companions appeared to be nervous and suddenly he was struck and knocked down whereupon Gringo got on top of him and the second man also assaulted him.
He said that one of the men held a knife to his throat and told him to stop struggling or they would "gut him ".
The victim said that the two men took his wallet, which contained $200, and his keys, before they left in a vehicle he described.
The man said that after they left he started walking, while bleeding from his neck, and calling his roommates for help.
At Noble Hospital a detective showed him a set of photographs and he identified Gringo from among the photos.
Gringo was found to be Jamie M. Francis, 20, of 867 State St., Springfield.
Det. Anthony Tsatsos was assigned to investigate the crime and reports that the incident occurred on Kellogg Street were a set of concrete steps leads up a small hill, the dike which borders Whitney Playground.
Tsatsos reports that the victim had been told that the party was down the path on the other side of the hill but he became concerned and questioned Francis. He was then pushed down the steps and rolled into the street.
The victim said that he was then attacked by the two men and kicked repeatedly on the ribs and legs before a knife or other sharp instrument was placed against his throat.
The victim quotes Francis as saying "Don't move, I'll gut you."
The victim said that as he tried to get away he could feel his throat being cut. Photos taken at the hospital show that the victim's neck suffered numerous shallow lacerations.
The victim said that his assailants fled after stealing his wallet and keys.
Tsatsos filed a request for a warrant and reports that he found that Francis was employed at an East Main Street fast food restaurant.
Tsatsos and community policing officer Steven Nacewicz were waiting at the restaurant when Francis arrived, late, for work on Thursday.
Tsatsos reports that he approached when he saw Francis exit the car he arrived in and observed the suspect then re-enter the car when he saw Tsatsos in an apparent attempt to flee but the vehicle was blocked in the restaurant's parking lot and he was taken into custody.
Later that day, in Westfield District Court, Francis was arraigned on charges of armed robbery and assault and battery with a dangerous weapon.
He was held, pending a Sept. 28 hearing, in lieu of $500 cash bail.
The investigation to identify and arrest the second suspect in the robbery is continuing.